Specialists in TECHNOLOGY AND INTEGRAL SERVICES for AQUACULTUE and WATER INDUSTRIES
Miranda
Monitoring & Control.
Full control of machines, sensors and all processes from anywhere
Miranda is the real-time aquaculture and water industries BIG DATA Management.
Robust and reliable for producers, managers and researchers allowing you to monitor and control parameters in real-time, on site or remotely. Save time and money by optimising your operations. Create the reports you need to manage your installation better and take the right decisions timely.
INNOVAQUA has many years of experience and knoledge and has designed several specific control modules for aquaculture such as photoperiod, thermoperiod or feeding managment (Mirafeed) that are fully integrated.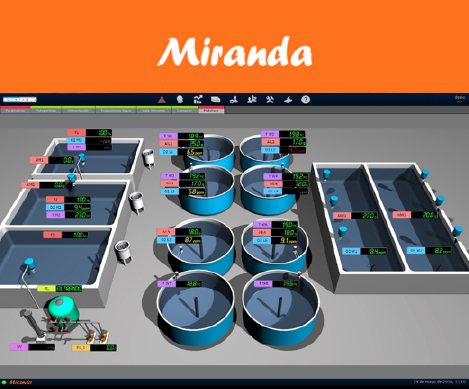 Compatible with all devices
Miranda allows real-time management of BIG DATA in aquaculture and water industries
Download DOSSIER (PDF)
Automation Control and Supervisor Data
Miranda SDA
(Supervisor Data Acquisition)
It is installed into a rugged device connected to controllers via cable, optic fiber or radio (communications network), collecting the field data and incorporating them into the database, also allowing the execution of orders and setting of different control systems.
Includes the following functions:
Parameters display in real-time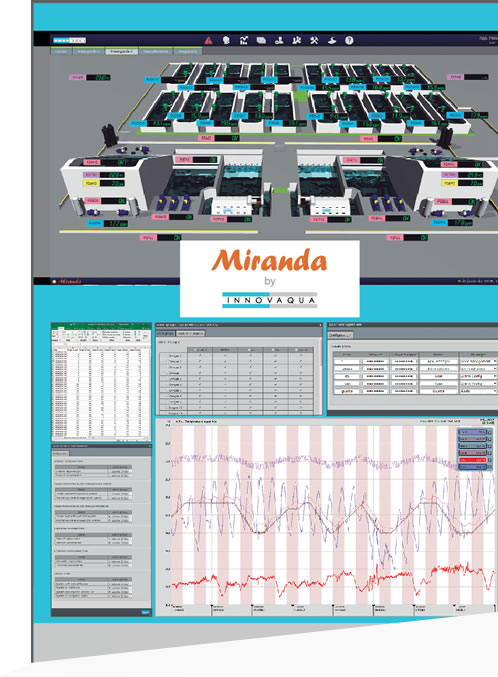 Miranda ACB
(Automation Control Box)
Miranda ACB includes an industrial PLC with colour touch screen. Connecting the appropriate probes, it reads the levels of the parameters (pH, oxygen, temperature, etc.), acting on the devices (pump, valves, etc.) and maintaining the levels within the desired ranges.
This architecture increases the system reliability against failures and minimizes the risk of accidents and losses.
Currently, it can be connected to any standard device with 4-20 mA, 0-20 mA and 0-10 Volts, or digital communications.
INTELLIGENT 4.0 solutions for AQUACULTURE and WATER INDUSTRIES